TMS has considerable experience with all kinds of piling for marine civil and land civil engineering projects. Utilising our floating plant and equipment, we regularly drive tube, sheet, H-section and timber piles for a variety of applications.
Conventional Sheet Piling
Piles are commonly used in the marine sector for riverbank protection, seawalls, cofferdams and so on. Sheet piles are sections of sheet materials with interlocking clutches that are driven into the ground to provide earth retention and excavation support. Permanent steel sheet piles are designed to provide a long service life and are normally installed in sequence to a design depth, they are often tied back with tie bars and have a capping beam installed on the top of the piles.
Crane suspended Vibratory pile driving followed by percussive piling is the most common method of driving sheet piles into the ground with the use of a temporary works. This method is called conventional piling.
The temporary works come in varying different forms depending on location, weights, depth of water, access requirements, lengths of piles etc.  The temporary works will be designed and built for each project.
TMS are experts in installation of Piles, using EMV, vibro and impact hammers as well as using a movax.
The machines TMS use are the latest 'low emission' engine, ideally suited for work on inner city sites and all hydraulics use bio oil, for ecological safety in marine environments.
View a video of a TMS installing sheet piles in less than 3 minutes total cycle time, Click on the images below.
Movax Piling
This makes the Dooson/Movax combinations very cost effective solutions for pile driving on most sites; from open areas, to confined spaces, or limited headroom. The advanced Auto C control system makes the operation accurate and easier to create high productivity and safety at low operating cost.
As owners and operators of a range of piling equipment, we have a dedicated team of experienced personnel ready to meet your needs:
Design and construction
Specialised piling activities
Commercial and residential
Environment Agency and public authority construction contracts
Sea and quay walls, boat docks, marinas, jetties and dolphins
Quick and efficient installation
Tidal environments
Environmentally sensitive, including SSS1 riverbank locations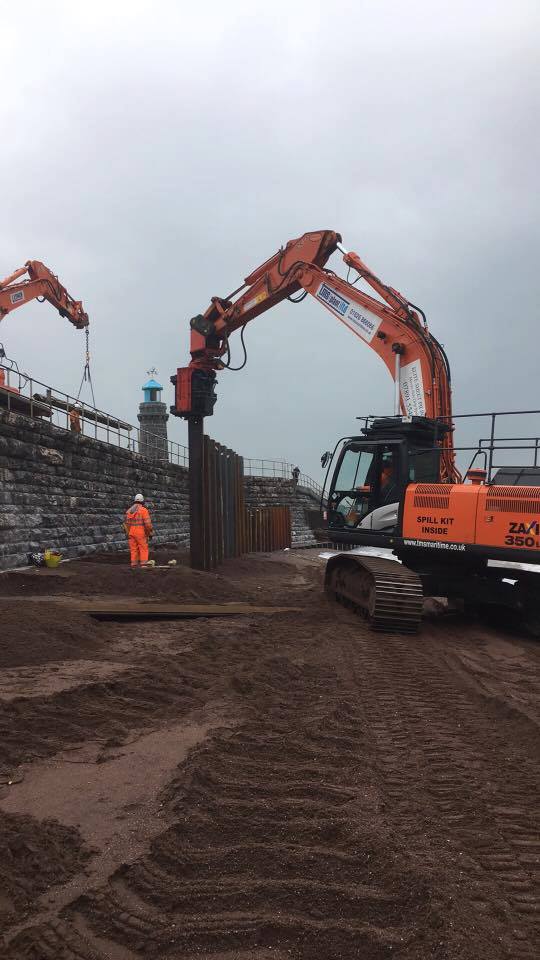 For
Costain
7 Months
TMS were appointed, by Costain, to complete the installation of tubular fender piles on the River Severn at Mythe and
Upton. These piles were to protect the water treatment works and an eel pass.
View Project
For
Somerset West and Taunton Council
2021
TMS were awarded the design and build contract for repair works at East
Quay, Watchet Harbour. The project included the installation of a 42 m
section of new sheet pile wall and waling beams. The existing sheet piled
quay wall, used as both a leisure and commercial facility, had failed and
was collapsing into the harbour.
View Project