TMS are a specialist marine contractor. As the sector has evolved, TMS recognised clients would benefit from a single source solution for their projects. A strategic decision was made to increase the skill set of the business so that TMS could offer civils based works and engage on total package solutions for clients.
TMS regularly have packages of works which includes earthworks, drainage and concreting. By keeping their direct delivery philosophy TMS are able to make use of their multi skilled workforce to deliver the civil engineering elements of works alongside the marine element. This generates an efficient programme of delivery of works for their clients. This approach allows TMS to stand out against other marine contractors competing in this sector.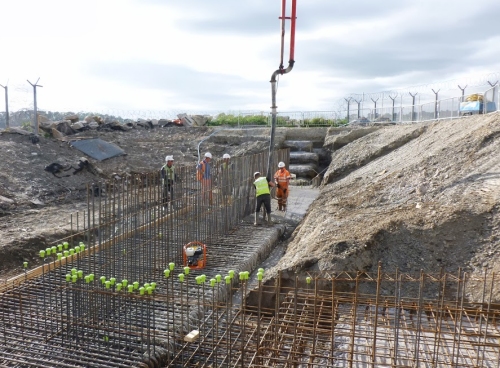 For
Red Earth Bideford
2023
The Harbour Wall Remedial Works Project undertook a comprehensive approach to address a range of repair needs for
the masonry harbour wall situated at Brunswick Wharf in Bideford.
View Project
For
Landsec
The Big Painting is a creative solution to the practical problem of wind blowing through the buildings at Cardinal Place in
Victoria, London. The sculpture was designed by Patrick Heron and his son-in-law, Julian Feary (architect), brought it to life on a grand
scale. The sculpture consists of numerous brightly coloured floating shapes connected with linear patterns. Neon tubes light up the
sculpture at night with a pathway of lights directing people through the sculpture on foot. The Big Painting was commissioned in 1998,
although the artist sadly passed away a year after the sculpture was unveiled.
View Project