Specialising in all aspects of marine construction, TMS as a marine contractor, have a plethora of knowledge and experience in marina construction, and are highly capable of both smaller and sizeable marinas.
TMS differentiates us from other marine contractors by undertaking all aspects of marina construction including; jetty building, piling, fender installation and replacement, decking, slipway construction and repairs. Our maintenance service includes wave screen repair and replacement. We understand the importance of bringing a pragmatic approach to our clients, ensuring their project is delivered in the safest and most efficient manner possible.
Our project and site based personnel have the expertise to deliver top level results in often highly pressurised environments, and this can be seen in the quality of our previously constructed marinas.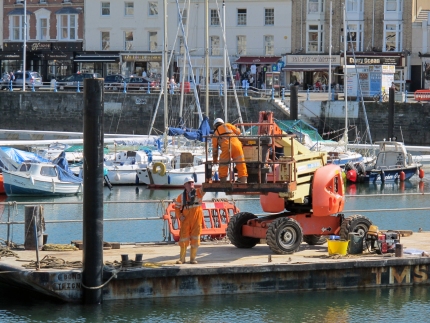 For
Dyer & Butler
8 Months
Working on behalf of Dyer & Butler, TMS were appointed to complete the in-river repair works to 2no. piles on the condemned pedestrian
footbridge between Rock Park and the Severn Brethren Industrial Estate in Barnstaple. The historic bridge was the main access route for
commuting school children whose route had to be diverted along a busy A-road. The former railway bridge had been closed for safety
reasons since May 2020 after a routine dive inspection discovered significant damage to the in-river piles. The original scope of the project
included
View Project
For
Associated British Ports Ltd
March 2017
During rough sea state conditions in late 2015, a passenger ferry was forced against Plymouth's Millbay Pier, causing damage to the fendering systems.
View Project